Latest posts by Dan Sekar (see all)
Successful sales people spend a lot of time finding new prospects, researching them on the Internet and finding their contact information. Eventually it leaves them with very little selling time.
For example, you came across a company who could be your potential customer; and most of the times you don't have any information other than the company name. So, how do you reach them immediately?
You begin to manually search the Internet to find the name, email address, phone number, etc. of the decision maker in that company.
Now, if you were to do this manually for a list of 50 contacts, imagine how much time it would take you to find email addresses & phone numbers of your prospects. This is where a sales prospecting tool such as Account-Researcher can make all the difference.
Account-Researcher helps you to instantly find the names of decision makers, their email addresses and phone numbers found anywhere on the Internet. All you need to do is just enter your prospect's company and select the title of the decision maker you want to reach in that company. Account-Researcher's built-in email finding and contact research technology will search the Internet and find you the name, email address and phone number of the decision maker in just a few seconds.
The sales prospecting tool also helps you to find other company details and get talking points, etc.
With Account-Researcher, sales prospecting is done in just a few seconds.
Save time on prospecting and sell more.
Click here to download Account-Researcher and try it yourself.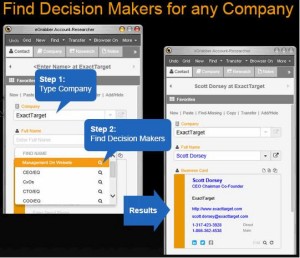 Finding sales prospects
,
How to find new sales prospects
,
How to find prospect for sales
,
Sales prospecting tools
,
Tools for sales prospecting