If your sales team does not have a steady flow of qualified B2B sales leads, then you are in trouble.
A majority of the B2B companies admit this and say that one of their toughest challenges is to generate a continuous stream of qualified B2B sales leads. What is even worse is some companies spend a lot of time and resources looking for B2B leads at the wrong places.
The Internet is one of the best sources to generate qualified B2B sales leads. Search engines, professional networking sites, business directories are rich sources to find B2B sales leads. But the challenge is, you got to manually search various websites to find your prospects and their contact information. It takes a lot of time and effort. This is where a B2B lead generation software such as LeadGrabber Pro can offer you the winning edge.
LeadGrabber Pro helps you to generate qualified B2B sales leads from the Internet in no time. You don't have to manually search through the Internet. All you need to do is just enter the keywords related to your target audience and click Find.
For example, if you want to generate a list of CEOs in Aerospace industry, all you need to do is:
1. Enter 'CEO Aerospace' in LeadGrabber's Keywords pane.
2. Select the search script.
3. Click Find.
LeadGrabber instantly searches the Internet and displays the results in the Browser Pane.
4. Click Grab.
LeadGrabber extracts the name, title, company, web URL, etc. to the grid.
LeadGrabber also helps you to append missing contact information such as email address, phone number, postal address, company details, management contact information, etc.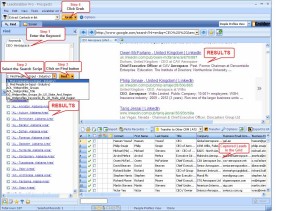 Grab unlimited leads for 3 days! Click here to download LeadGrabber Pro.
Latest posts by Dan Sekar (see all)