The success of B2B marketing campaigns or any marketing campaign for that matter depends on the quality of prospect lists and its campaign readiness. So to jumpstart your marketing campaigns, you need to have highly-targeted B2B sales lead lists with accurate prospect data along with contact information; and you got to get the list as quickly as possible.
Some B2B marketers waste no time and straightaway opt to buy lists. But those lists are not only expensive but also incomplete. For companies that can't afford to shell out huge amount of money, they go about doing their own search manually.
Manual Internet search is a time-consuming and tiresome process. You got to manually search various websites, company management pages, directories, social and professional networking sites and so on to build a list of prospects. It's not an easy task, mind you.
You need to manually copy-paste the prospect names and company names into an Excel spreadsheet. And it just doesn't end here. You got to also get their email and phone numbers to make the list usable. Having a prospect list without any contact information is as good as not having the list itself, right?
So, the entire process of building campaign-ready B2B sales lead lists warrants a lot of time and resources. Well, you might spend a lot and still end up having incomplete data or you might lose a lot of time during the manual list building process and eventually lose your selling time as well. This is where a B2B list building tool such as LeadGrabber Pro can make lives easier for B2B marketers.
The software does the entire job for you in just 3 simple clicks.
Yes, all you have to do is, just enter the keywords.
For example, if you are looking for Scientist profiles from Biotechnology industry in San Francisco Bay area, you need to just enter them and click Find.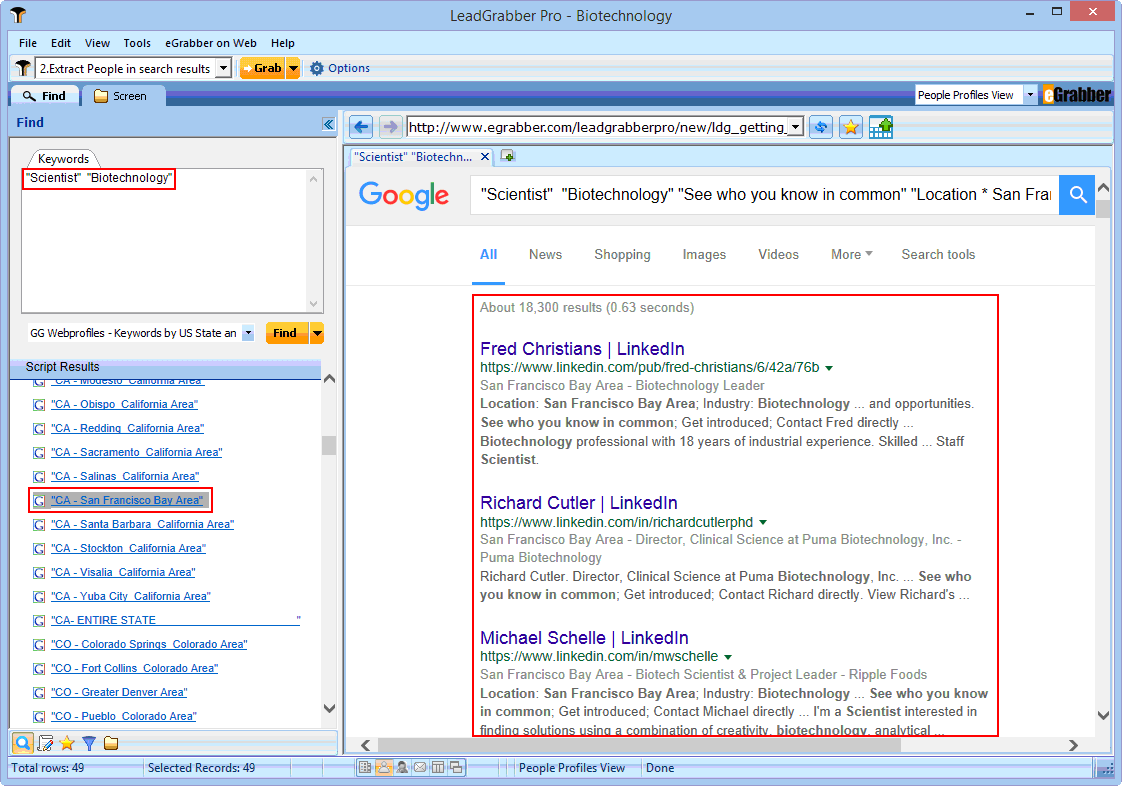 LeadGrabber takes care of the task of searching for people profiles from the Internet – search engines, websites, social and professional networking sites, blogs, newsletters, press releases, news and other sources and displays the results in the built-in browser.
It just takes a few seconds to bring the results. You can stay cool and browse through the results.
And with a click of a button, you can copy-paste the search results into the built-in grid available in LeadGrabber Pro.
Just click Grab. You can find the results into the grid in a spreadsheet format.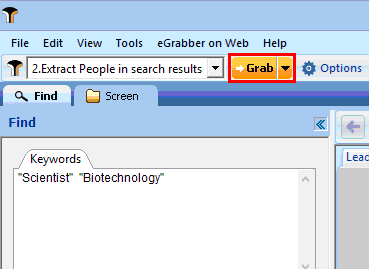 Now you can glance at the profiles displayed in the grid. Most of the records will be without email and phone numbers.
The next step is, select the records that you want to find email and phone numbers and click Append Email and Phone.

Again, you can leave the task to LeadGrabber Pro and go for a cup of coffee or attend to some other important work. If you have hundreds of records, you can just leave it overnight.
LeadGrabber Pro searches the missing business email and phone numbers of your prospects from the Internet and the next day morning, you will have your complete prospect list ready.

LeadGrabber Pro searches and displays the emails that are found (displayed in Blue color) on the Internet. If the emails are not found on the Internet, the software intelligently researches the co-workers' emails, analyzes the pattern and frames the email that matches with the company pattern. Those emails are displayed in Green color.
If you have a list of contacts with name and company name, just import it into LeadGrabber Pro. It helps you find the business email and business phone numbers of your contacts; and makes your list readily usable.
What are you waiting for?
Tags:
b2b list building software
,
B2B Sales Leads Lists
,
How to Find B2B Sales Leads
,
how to generate B2B leads from social media
,
how to generate B2B sales leads
,
How to Generate Qualified Sales Leads
,
Sources to Generate B2B Sales Leads